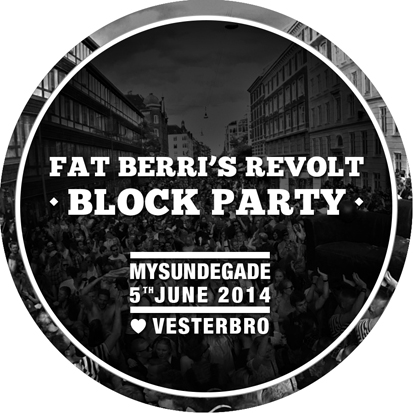 Fat Berri's joins forces with Revolt to bring the blog to the block.
Stand shoulder-to-shoulder with us as we take over Vesterbro once again.
Bringing the music and DJs we love to the streets, in a mashup of soul, hip hop, electronic and deep bass.
The streets are ours – So listen up and join the revolution!
Big stage, good sound and loads of excellent beats & vibes.
Fat Berri's Denmark's largest music blog, made by music lovers.
joins forces with Revolt – Copenhagen based creative marketing agency challenging traditions in a digital and connected world.
Joining us on this street revolution are:

† T.O.M and his Computer (Live)
† Tue Track 
† Dokkedal
† Anders Dixen 
† Jan Brandi 
more to be announced in the coming weeks… so keep updated.
Show your support on the Facebook event here

Get our free music App for iOS & Android