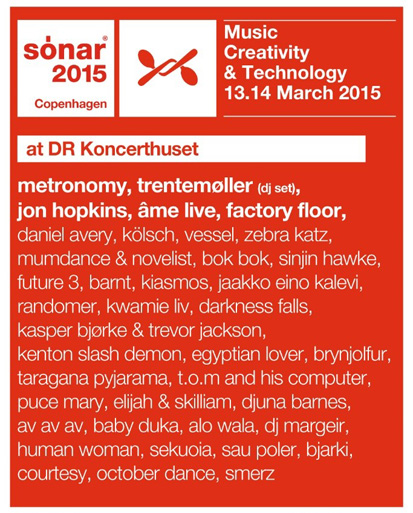 It is no longer necessary to pack your bags and travel south, to experience the electronic music festival Sonar. This weekend Sonar arrives in Copenhagen for the first time, and they are bringing a kick ass line-up with them. It's all going to go down in the DR Koncerthuset. Not quite the same beautiful outdoor surroundings we know from Sonar in Barcelona, ​​but it's pretty spectacular.
We are looking forward to a lot of good music. Here are a few of the people we are especially looking forward to.
Jon Hopkins, Open Eye Signal
Audio clip: Adobe Flash Player (version 9 or above) is required to play this audio clip. Download the latest version here. You also need to have JavaScript enabled in your browser.
Trentemøller, River Of Life – T.O.M. And His Computer Remix
Audio clip: Adobe Flash Player (version 9 or above) is required to play this audio clip. Download the latest version here. You also need to have JavaScript enabled in your browser.
See the full line-up and program and buy your ticket here.
Download our free music App for iOS & Android