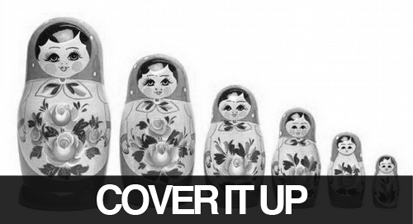 Theodor Clausen is going to be posting a weekly post on a single track and it's various cover versions.
There are a lot of great cover versions out there. A cover version sometimes can be better then the original and other times a well functioning track should just be left alone and enjoyed.
Follow Theodor's new category "Cover It Up" once a week with tracks that are reborn in new versions.
We are looking forward to it as there are quite a few diamonds in the rough out there.
So here is the first post on 'Cover It Up'
Cover it up. Tear it down
By Theodor Clausen
The self-titled debut of London band The XX was that kind of album that filled in a gap most of us didn't know existed. On the bonus disc we found "Teardrops", a heartbreaker's banger and one of my favourite tracks from the genre-defining debut.
The Xx, Teardrops
Audio clip: Adobe Flash Player (version 9 or above) is required to play this audio clip. Download the latest version here. You also need to have JavaScript enabled in your browser.

Download here (Right Click, Save As)
Three years later, and gamers of Grand Theft Auto IV will hear Joss Stone's version of "Teardrops" on the fictional in-game station "Vice City FM".
Joss Stone, Teardrops
Audio clip: Adobe Flash Player (version 9 or above) is required to play this audio clip. Download the latest version here. You also need to have JavaScript enabled in your browser.

Download here (Right Click, Save As)
So far so good but this is only the tip of the iceberg.
Year 1998 and the mainstream listeners in England are going nuts in UK-garage inspired pop music. Lovestation takes advantage of that situation and bangs out this version:
Lovestation, Teardrops – Flava 7″ Mix
Audio clip: Adobe Flash Player (version 9 or above) is required to play this audio clip. Download the latest version here. You also need to have JavaScript enabled in your browser.

Download here (Right Click, Save As)
I bet Craig David would have loved to do that version.
At that point, most people probably know the track "Teardrops" from Elton John's twenty-fourth studio album "Duets". It came out in 1993 and featured k.d. lang on the first track of the album; "Teardops".
Elton John & k.d. lang, Teardrops
Audio clip: Adobe Flash Player (version 9 or above) is required to play this audio clip. Download the latest version here. You also need to have JavaScript enabled in your browser.

Download here (Right Click, Save As)
For those of you who are not familiar with Elton John: Ignorance is bliss.
So now we are finally getting there. I will save you for German pop band No Angels, Australian singer Kate Alexa and Sugababes' versions. They are all too miserable to elaborate on.
So what is yet to be mentioned is the year of 1988 and in this case Womack & Womack's fourth studio album, Conscience. Fast-forward to track five and you find nothing less than the original version of "Teardrops". In this context you will definitely find me on the "original" support team.
But listen yourself, which version do you prefer?
Womack & Womack, Teardrops 
Audio clip: Adobe Flash Player (version 9 or above) is required to play this audio clip. Download the latest version here. You also need to have JavaScript enabled in your browser.

Download here (Right Click, Save As)