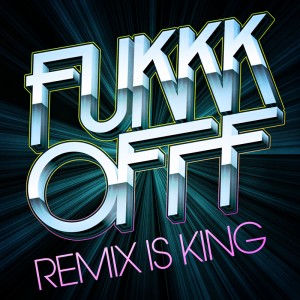 I just received a package with a lot of Fukkk Offf remixes, so the quiet start to the week is ending now.
Fukkk Offf's remix album is called 'Remix IS King'
Is a compilation of Fukkk Offf remixes of other artists as well as other artists remixing Fukkk Offf. There's also one brand new original cut called 'Utopia'
Listen to four tracks from the album here.
Fukkk Offf, Utopia (Original Mix)
Audio clip: Adobe Flash Player (version 9 or above) is required to play this audio clip. Download the latest version here. You also need to have JavaScript enabled in your browser.

Download here (Right Click, Save As). – – Buy the full album on Beatport

Fukkk Offf, Love Me Hate Me Kiss Me Kill Me – Gooseflesh Remix
Audio clip: Adobe Flash Player (version 9 or above) is required to play this audio clip. Download the latest version here. You also need to have JavaScript enabled in your browser.

Download here (Right Click, Save As). – – Buy the full album on Beatport

Fukkk Offf, Love My Shake – Frederic De Carvalho Remix
Audio clip: Adobe Flash Player (version 9 or above) is required to play this audio clip. Download the latest version here. You also need to have JavaScript enabled in your browser.

Download here (Right Click, Save As). – Buy the full album on Beatport

Fukkk Offf, Love My Shake – LaClopeAuBec Remix
Audio clip: Adobe Flash Player (version 9 or above) is required to play this audio clip. Download the latest version here. You also need to have JavaScript enabled in your browser.

Download here (Right Click, Save As). – Buy the full album on Beatport