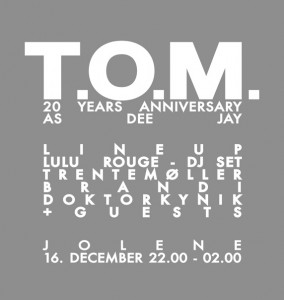 Dee Jay T.O.M one of my absolute favorite DJs have 20 year anniversary as a DJ on Wednesday, when he turned his first EPs, I was still a little boy, but I went after it, and he is today one of the people who can inspire me most.
20 years with T.O.M as a DJ requires an extraordinary celebration, and it will be held at Jolene Bar on Wednesday, where we can see T.O.M colleagues, Trentermoller, Doktor Kynik and Brandi playing it up to a good celebration for him, and not at least hear T.O.M play with his partner DJ Buda as Lulu Rouge.
If you like to be there and celebrate T.O.M see more here.
Until Wednesday you can hear the latest remix from Lulu Rouge
Moby, One Time We Lived – Lulu Rouge Remix
Audio clip: Adobe Flash Player (version 9 or above) is required to play this audio clip. Download the latest version here. You also need to have JavaScript enabled in your browser.

Download here (Right Click, Save As).