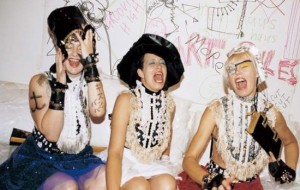 The first time I heard Chicks on Speed with Euro Trash Girl was in Lulu Rouge's Party Electro Mix. There was something about that track that immediately caught my attention. Therefore, although it's a few years old, I think it deserves to be posted here so you guys can enjoy it.
You can listen to the original version or hear how Lulu Rouge has chosen to use it in their DJ set here (35 min into the mix).
Audio clip: Adobe Flash Player (version 9 or above) is required to play this audio clip. Download the latest version here. You also need to have JavaScript enabled in your browser.

Download here (Right Click, Save As).